MTDPOLYSTOP™ Tapping Equipment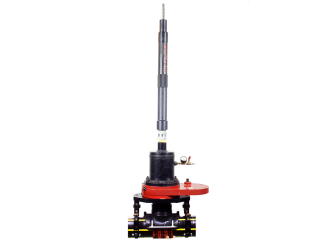 Note:
Please contact us for quotes on complete tapping equipment kits or for individual parts.

---
MTD

POLY

STOP™
Hot Tapping Equipment for Line Plugging Operations
Entering the in-service mainline is accomplished via a hot tap performed through the electrofusion fitting. Our POLYTAPP™ hot tapping machine, with its proven track record of performance, is adapted for use in this system. 
Specially-designed cutters and pilots retain all shavings, and eliminate the possibility of losing coupons.

One tapping machine is all you need to perform hot taps for all sizes.

Lightweight tapping housings include gauge ports for testing fusion joints prior to hot tapping.

Simple procedures eliminate complicated travel calculations. 
---
 One Tapping Machine for All Sizes
 

The simple, intuitive operation of the PE25 makes hot tapping quick and easy. Simplified procedures save time when performing hot taps. Advance the pilot to the pipe, then advance the dept indicator to a distance listed in your operator's manual, and you're done. 

Every size POLYSTOP™ operation can be completed with one tapping machine. 

Hot taps can be completed by hand or with the optional air-drive and gearbox which makes tapping even easier!

The 3" tapping housing for use with the 3×4 POLYSTOP™ system simply threads onto the end of the tapping machine, then into the top of the valve. 

For other sizes, the tapping machine threads onto the tapping housing, then the housing bolts directly to the studs on the aluminum valve. 

All tapping housings include a 1/4" FPT port for attaching a pressure gauge and purge/test valve.

Tapping cutters for the POLYSTOP™ system are designed so that the shavings are forced inward, behind the coupon, not down inside the pipe.

Our pilots are also designed to prevent the loss of coupons by threading into the pipe. After the tap is complete, the coupon must be 'unscrewed' from the pilot. 

POLYSTOP™ tapping equipment is also available in convenient kits. Each kit includes everything you need to perform hot taps for POLYSTOP™ operations:

One PE25 tapping machine

One ratchet handle

One spanner wrench

Ten pilot retainer clips

One 3-inch tapping housing

One 4-inch tapping housing

One 6-inch tapping housing

One 8-inch tapping housing

One 4-inch test flange

One 6-inch test flange

One 8-inch test flange

One tapping gearbox (air motor sold seperately)

Cutters & pilots are sold seperately, or inlcuded with each size POLYSTOP™ double-position kit. 

 

 
---
Documents

Datasheet - Equipment Needed for 3×4 Polystop

Datasheet - Equipment Needed for 4×6 Polystop

Datasheet - Equipment Needed for 6×8 Polystop

Datasheet - Equipment Needed for 8×12 Polystop

MTDPOLYSTOP™ Marketing Flyer